For many bodybuilders, 'anything' goes in the offseason.
Some bodybuilders simply enjoy eating and are happy to let themselves go after a long period of dieting down.
Some just want to maximize their muscle growth and so often think it a good idea (wrongly) to stuff down whatever 'calories' they can get their hands on, without much thought for food quality.
On the opposite extreme, some psychologically can't let go at all and so try to eat 'clean' year round.
I view the examples above as both extreme and problematic in the long term. By virtue of the bodybuilding lifestyle it can be VERY easy to develop an unhealthy relationship with food… going extreme diet-wise during a contest prep is necessary to becoming one of the best in the world, but going extreme during the offseason as well?? Just asking for trouble IMO.
Whether it be psychologically (the development of an eating disorder for example), or physiologically (poor physical health, drop in performance etc) I simply don't recommend constant extremes.
I feel it's important to strike somewhat of a balance.
I want to enjoy my food and keep myself sane. My health, training performance, and ultimately my body composition goals MUST also factor heavily into the equation. On top of that, I choose to avoid straying so far away from contest lean that I need to start my diet too early, or have to go the overly extreme route and rush my fat loss to make the cut (possibly losing muscle that I put time and considerable energy into building!).
The 'offseason' is a great time for me to loosen up a little, though I rarely allow myself to 'completely' take my eyes of the prize. I'm therefore always on the lookout for GREAT tasting meals that may be a little off the menu in the final stages of contest prep, but remain aligned with many of my goals so that I can enjoy them often during the offseason without throwing off my progress.
We're building up quite a collection of recipes over on MI40 Nation, and today I want to share with you 3 of those meals that fit the bill.
Oatmeal Pancakes – who doesn't love pancakes right?!
(Great recipe Leyla B!) – 1 Serving.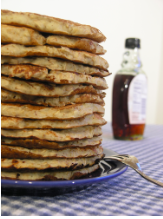 Ingredients:
1/2 c gluten free rolled oats, ground
3 egg whites
1 Tbsp coconut oil
Dash of vanilla almond milk
pinch of salt
1 tsp baking powder
1 tsp cinnamon
8 drops stevia
Directions:
Mix ingredients together into 'pancake' and pan fry accordingly.
Top with organic maple syrup.
Pumpkin Spice Waffles
(Shout out to Craig Preisendorf for this one!) – 1 serving
Ingredients:
2 cups Pumpkin Spice Muscle Egg
6 Tbsp coconut flour
1/4 cup pumpkin
A dash of cinnamon, pumpkin spice, vanilla and cocoa powder
Directions:
Blend all ingredients.
Cook in waffle iron. Pour calorie free syrups over the top to serve.
And finally switching gears a little:
Asian Turkey Burgers with Wasabi Mayo
(Melissa, you've done it again!) – 2-4 Servings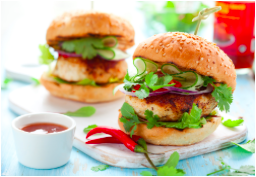 Ingredients:
2 lbs ground turkey
1-inch piece of ginger, minced
1 Tbsp (gluten-free) soy sauce
2 eggs
1 c (gluten-free) breadcrumbs
1 tsp sesame oil
4 green onions, diced
1 cucumber, sliced thinly
1/2 c pickled ginger, drained
1/2 c rice vinegar
1 tsp salt1 packet stevia
1 Tbsp coconut oil
4 oz mixed greens
Gluten-free burger buns
1/2 c greek yogurt
1 Tbsp wasabi paste
Directions:
Mix turkey, ginger, soy sauce, egg, bread crumbs, sesame oil and green onions in a large bowl. Set aside.
Combine cucumber with ginger, vinegar, salt, and stevia. Set aside.
Shape turkey mixture into burger patties.
Heat coconut oil in a pan over medium-high heat. Working in batches, cook patties until brown (5-8 minutes).
Flip patties over and continue cooking until done (another 5-8 minutes).
Whisk greek yoghurt and wasabi paste.
Drain cucumber mixture.
To serve, plate burgers (if desired, on buns) with greens, drained cucumbers, pickled ginger, and wasabi "mayo".
More recipes to check out
My Favourite "Cutting" Recipes to get SHREDDED 
My 3 Favourite "Guilt Free" Desserts (Recipes Included)
My 3 Favourite "Guilt Free" Desserts (Recipes Included)
What Do You Think?